Japan for animal lovers: 5 things to do
A while ago, I posted an
article
on how Japan is one of the best countries to visit in Asia, especially if it's your first time touring the continent. Last November I actually managed to go to Japan and I can confirm that the country is one of the greatest destinations in the world, let alone Asia!
Japan's culture is more incredible than I could ever describe, but beyond touring temples and tasting the best Udon noodles in town, you'll also feel right at home if you're an animal lover. Take a look at these activities around Japan if like the amazing people of Japan, you're obsessed with all things cute and fluffy.
1. Watch monkeys enjoying the hot springs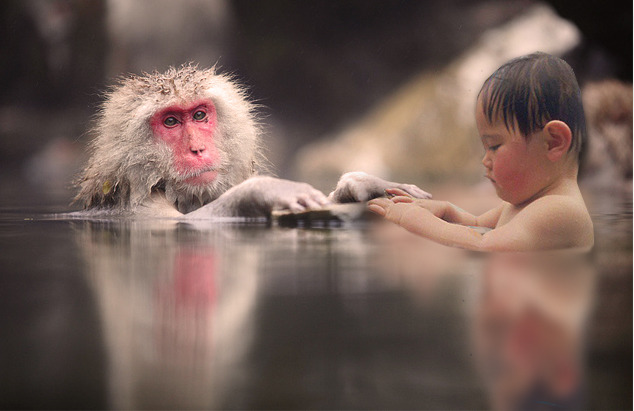 The Jigokudani Monkey Park in Yamanouchi is known for its hot springs, however it's not the visitors that get to bathe in them. Japanese Macaques are the attractions here, which come down from the mountains every winter to warm themselves up in the hot springs. Also known as Snow Monkeys,
Atlas Obscura explained that they're believed to be emissaries
of the mountain gods, so it's easy to understand why they're not driven away by the locals and instead respected enough to be allowed to enjoy the steamy waters.
Watching the monkeys relax in the hot springs is a one of a kind experience and is certainly worth adding to your bucket list. According to many insiders, it's best to go during these winter months and visit in the morning to catch all the action.
2. Feed koi in traditional Japanese gardens
Traditional Japanese gardens almost always have koi ponds, which not only look beautiful, but also add to the overall structure of these Zen gardens. One of the greatest ways to relax is to visit the gardens to admire the landscape and, of course, to interact with the koi in the ponds.
Japan's National Tourism Organization recommend several spots
where you can enjoy unwinding in peaceful gardens as well as watching and feeding the beautiful koi, such as the Ryoanji Temple in Kyoto as well as Koraku-en in Okayama, a massive garden which has large ponds and even hills. This artificial recreation area is so vast that it took 14 years to complete.
Japanese carp or 'koi' are an important part of Japanese culture, so much so that they're associated with various characteristics including good fortune, perseverance, calmness and strength. Koi is now famous around the world and due to these positive qualities, their portrayal even exceeded the biological aspect and digital versions of koi have begun to appear through various mediums. For instance,
Game Skinny mentioned that Zen Koi uses the calming effect
of interacting with the fish, which is similar to the effect the live wallpaper emits. Equally, the
renowned gaming portal Slingo
also has a
Lucky Koi game which plays on the good fortune tied to the fish
putting a modern spin on it ideal for gamers to enjoy. Such iterations prove the persistence and popularity of koi in the minds and hearts of people even outside of Japan.
3. Set your crazy cat self free
For cat lovers, look no further than Japan's 'nekojima' or cat islands.
Tsunagu Japan listed Aoshima Island in Ehime
as one of Japan's most unusual places to visit, wherein cats are the main inhabitants. If you can't make it that far, All about Japan mentions at least
10 other cat islands
in the country aside from Aoshima. You just need to visit one to get an idea of the sheer cat cuteness on offer.
It's also good to know that vets and caretakers regularly monitor the locations, so the furry felines are treated with the love and care they deserve. After all, cats are signs of good luck in the eyes of the Japanese. The 'beckoning cat' figurine or 'Chinese lucky cat' actually originated in Japan. It just so happened that Chinese merchants often used them as well in their shops to watch over them.
4. Feed the friendliest deer in the world
Nara is Japan's old capital, but beyond its UNESCO recognised heritage, Nara Park is where you should be heading for an afternoon with Bambi's Japanese relatives. Deer used to be considered sacred, and even today they are designated national treasures, so treat them with all the care and respect they deserve. The deer in Nara Park are wild, but all incredibly friendly and looking for crackers and food - so go prepared.
5. Visit Tokyo's owl cafes
Fukuro, or owl cafes are all the rage in Japan, and you can find many of them in Tokyo. Most cafes let you pet them, perch them on your arm, or just enjoy their company, but as always, make sure you treat the fuzzballs with respect and care! Most cafes are incredibly busy, so make sure you book in advance to avoid disappointment.
One of the many beautiful things about Japan is their respect for all animals - from the owls they drink tea with to the animals roaming freely in Japan's beautiful wildlife. It's definitely not just Hello Kitty they care about!